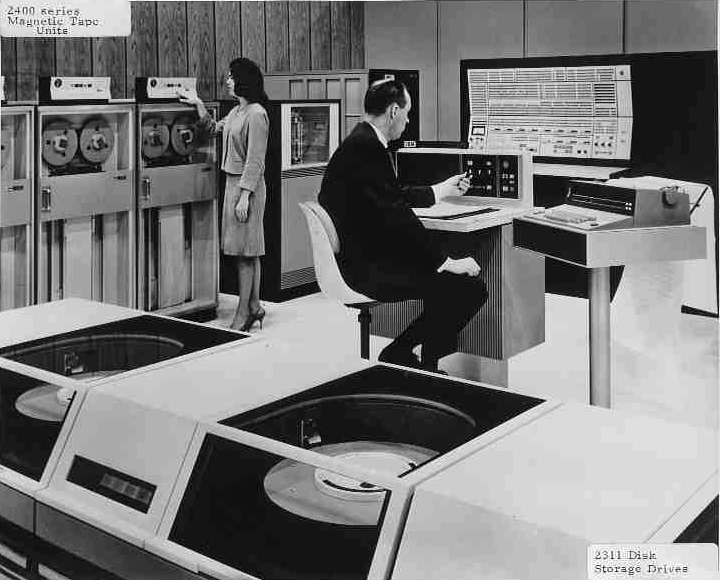 The
IBM 2311 Direct Access Storage Facility
was introduced in 1964 for use throughout the System/360 series. It was also available on the IBM 1130 and (using the 2841 Control Unit) the IBM 1800. The 2311 mechanism was largely identical to the 1311, but recording improvements allowed higher data density. The 2311 stored 7.25 megabytes on a single removable IBM 1316 disk pack (the same type used on the IBM 1311) consisting of six platters that rotated as a single unit. Each recording surface had 200 tracks plus 3 optional tracks which could be used as alternatives in case faulty tracks were discovered. Average seek time was 85 ms. Data transfer rate was 156 kB/s.
The 2311 had 10 individual R/W heads mounted on a common actuator which was moved in and out hydraulically and mechanically detented at the desired track before reading or writing occurred. The 2311 was organized into cylinders, tracks, and records. (A cylinder referred to all surfaces the same track on each of the 5 platters.) Record 0 was reserved for timing.
Because the 2311 was to be used with a wide variety of computers within the 360 product line, its electrical interconnection was standardized. This created an opportunity for other manufacturers to sell
plug compatible
disk drives for use with IBM computers and an entire industry was born.